1.5 Ton Airrex HSC-18 Portable Air Conditioner
00004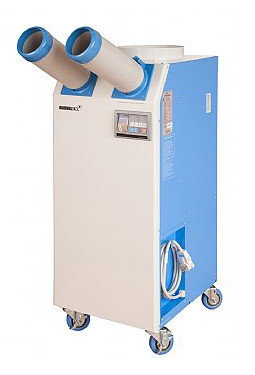 YOU WILL NOT FIND A LOWER PRICE, ANYWHERE!

16,800 BTU (1.5-ton) Airrex Spot Cooler with eco-friendly 410A refrigerant. Removable , washable air filters, thermostatically protected compressor. Double 5" diameter cold air directional nozzles. Moves easily on swivel/locking casters. Airrex spot coolers operate in air temperatures from 68 to 113F.
Cooling Capacity: 16,800 BTU/h
Power Consusmption: 1.95kW
Size (WxDxH): 19.3' x 23.6' x 49.8'
1 Year Warranty. 3 Year LG compressor warranty.
FREE DELIVERY Within 100 Miles of Dallas, Texas